Best Farrier School and Horseshoeing Training Courses
The Arkansas Horseshoeing School (AHS) curriculum has 8, 12, 16 and 24 week courses for prospective farriers and the 24 week Modern Materials and Advanced Forging Course for experienced farriers. Many students come from states all across the U.S., because of the reputation of the school and instructors.
NOTE: We can only accept students living in the United States.

Paul Dorris Jr., CJF AFA (Certified Journeyman Farrier, American Farrier Association) founded the Arkansas Horseshoeing School. Farriery and blacksmithing has been in the family for 130 years. He had spent years thinking about a farrier education program–what it took for a person to become a top farrier and how best to pass on his skills to others. It required mastery of the skills and art of horseshoeing as well as a desire to uphold the highest standards of the profession.
Paul believes the formula for success always includes; the quality of training and hands-on experience you receive, a course you can afford and having the required tools to start your  farrier business. Benefits of attending a AHS farrier course;
The best possible foundation from a good horseshoeing school

An apprenticeship in horseshoeing

Learn from Paul Dorris, Jr, nationally recognized farrier

Small class size, so more individual assistance

Tuition fee includes books and course materials.

Boarding – Separate men's and women's bunkhouse boarding is not included in the course fee, but is available for just $50 per month.

Tools – The school will provide all of the tools you need for the basic 8, 12, 16 and 24 week courses (see list of tools here). If you successfully complete your course, Paul will even give you the tool set to help you start your farrier career.
Quality Instruction Program…
Based on A 130 Year Farrier Family Legacy
Affordable Tuition Rates
Traditional Courses
Advanced Course
Farrier Twenty-Four Week Modern Material Course – $15,900


*To enroll in this course, students must complete a prior course of up to 12 weeks, have one year of prior shoeing experience or be able to demonstrate sufficient skill level to the director.
VA Benefits students will only be certified for one – traditional course based off the school assessment of needs and training. And the advanced course should the student decide to pursue the program.
Financial Assistance
Post-9/11 GI Bill® Veterans Benefits and VA Voc Rehab Benefits accepted. Please check with your local VA office to see if you qualify.
''GI Bill® is a registered trademark of the U.S. Department of Veterans Affairs (VA). More information about education benefits offered by VA is available at the official U.S. government Web site at https://www.benefits.va.gov/gibill."
Note: The $500.00 deposit is not required if you will be using your VA benefits.
Pay $500 Deposit  (secure online payment) – Click here
Successful Students
"One of Paul's recent graduates lives near me and helps us on occasion. He defiantly received a strong foundation at AHS, from work ethic to sound fundamentals of Farriery."
Steve Sermersheim CJF TE, AWCF – Middlefork Forge
Jacey Broussard, CF, owner JC's Hoofcare and a Arkansas Horseshoeing School graduate.
** See more student comments here.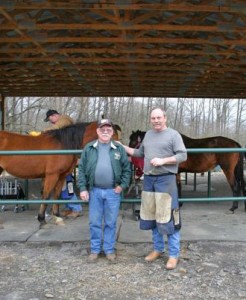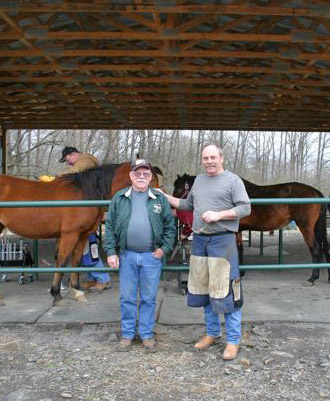 Paul Dorris Jr. founded the Arkansas Horseshoeing School and both he and his father are instructors; together they have 75+ years as journeyman farriers. 
The faculty worked together to create coursework that gives students everything they need to become outstanding farriers. They decided to keep class sizes ultra small and avoid using teaching assistants.
Their plan was for the farrier school to be as much like an apprenticeship experience as they could manage. Whether you're in an anatomy class, under a horse, or out in the field working with one of the faculty, you're always working with the guidance of an expert.
Paul Jr. has a long list of accomplishments. In early October 2010 he was an Official Farrier for the Eventing Division of The World Equestrian Games, where top equine champions from over 50 countries gather every four years to compete. This 2010 WEG is the first time the U.S. has been chosen to host this prestigious event. Over 500,000 attended and it was covered by NBC Sports.
For fourteen years, he's also been an official farrier at the Rolex Kentucky Three Day Event, also a Four Star Event like the World Games and the Olympics. Paul's father, Paul Sr. was also an official farrier at Rolex for years. It says a great deal about their reputations that father and son are entrusted with horses of this caliber.
We're proud of our farrier courses.  A great deal of collaborative effort among the faculty went into designing their content. In addition to the foundation of knowledge in horseshoeing and the business end of things, we'll also teach you how to maintain your health, concentrating on safety and on how to minimize wear and tear on your body.
We always assist students in finding apprenticeship positions after they finish our program.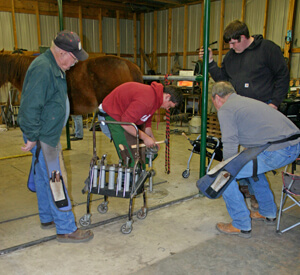 The success rate for graduates of any school skyrockets when apprenticeship is combined with formal education.
We take a personal interest in each individual we work with and enjoy talking with prospective students to answer questions and help them find what they need in a formal education in horseshoeing.
Don't hesitate to contact us – we want to help
you make an informed decision when evaluating horseshoeing schools.