Direct links to course pages;
8 week course   12 week course   16 week course  (no link)   24 week course (no link)
24 week Modern Materials and Advanced Forging Course
Ask us about our 16 and 24 week  courses.  They include everything in the 8 and 12 week course, plus a lot more of it.
Financial Assistance – – Post-9/11 GI Bill Veterans Benefits and VA Voc Rehab Benefits accepted. Please check with your local VA office to see if you qualify. Note: The $500.00 deposit is not required if you will be using your VA benefits.
Our 24 week Modern Materials and Advanced Forging Course Details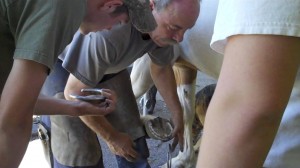 Tuition –  $15,900
*To enroll in this course, students must complete a prior course of up to 12 weeks, have one year of prior shoeing experience or be able to demonstrate sufficient skill level to the director.

This course is designed for students who wish to obtain a skill level such that they can successfully work on a horse using advanced modern materials or advanced forging skills. This course is designed to teach students the non-traditional methods that are available along with advancing their skills in the traditional blacksmithing methods.  This course furthers everything that the Twenty-four week course teaches plus adds time with the instructors to learn more about anatomy, modern materials, forging, and shoeing.
Students will have the opportunity to build a variety of handmade therapeutic shoes.  Some materials covered in this course include wooden clogs, aluminum shoes, pour-in pads, glue, and impression material.  The student will also be required to work on horses with a variety of lameness issues.  You will spend more time working on shoe modifications including stud holes, pads of many varieties, bar shoes, wedges, and more.  You will also be required to complete advanced forging exercises and attend clinics outside of class time.  This course is designed to go beyond preparing a student to be a good apprentice.   After completing this course, students should have the tools and the confidence to shoe for the public.
Tools:
Gooseneck vise
Creaser
Tongs (2)
Equipak Gun
Glue gun