Direct links to course pages;
8 week course   12 week course   16 week course  (no link)   24 week course (no link)
24 week Modern Materials and Advanced Forging Course
Ask us about our 16 and 24 week  courses.  They include everything in the 8 and 12 week course, plus a lot more of it.
Financial Assistance – – Post-9/11 GI Bill Veterans Benefits and VA Voc Rehab Benefits accepted. Please check with your local VA office to see if you qualify. Note: The $500.00 deposit is not required if you will be using your VA benefits.
Our 8 week  Course Details


Tuition includes books, course work and the tool set ($1,975 value) – $6,900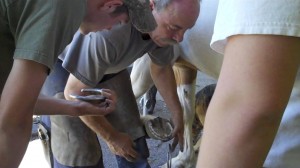 Open to national and international students, this is the Arkansas Horseshoeing School's basic course, designed to transform the beginning student into an entry-level farrier. Our 8-week course includes:
Horse Handling

Equine Anatomy and Physiology

Hoof Trimming and Balance

Using the Forge and Anvil

Basic Horseshoeing: Putting It All Together

Managing a Business
The course is taught with classroom instruction, as well as a generous amount of hands-on work with students working closely with the faculty. We don't use teaching assistants, so you'll always be working with someone who's spent years acquiring a base of knowledge and experience.
We designed our school to be as much like an apprenticeship as is possible. By keeping class sizes very small and providing a lot of one-on-one time with faculty, you'll learn quickly and acquire a wealth of detail as the horses you work on provide unique teaching opportunities.
At the Arkansas Horseshoeing School, we know that students shopping for a school are concerned about getting enough experience actually shoeing horses. We know how important this is and we make sure students get under a lot of horses.
Upon successful graduation from the course, students will be able to hot shoe a healthy horse to the standard of certification set by the American Farrier's Association, and will also have acquired a strong foundation with which to take the next step in their careers.
Over the years we've encountered quite a few newly trained farriers who've run through all their funds by the time they get out of school and can't afford the tools they need to get started working. That's a pretty frustrating situation to be in, so our tuition includes a set of tools. We know what tools you need (and we'll make sure they fit you personally) and we know how to choose good quality tools.
Although they're usually not included in the tool set, we're currently adding a working forge. This will be available to students as long as we're able to get such a good deal on them. When they're gone, they're gone.