February 20, 2010
More than 30 horse owners and equine professionals attended a clinic at the School that we put on in partnership with the Arkansas Horseshoeing Association. We served a complimentary barbecue lunch and organized the day's series of presentations.
All applications were done on live horses. Each of our farrier-clinicians, in addition to the other material he presented, evaluated the individual horse's confirmation and discussed it in detail.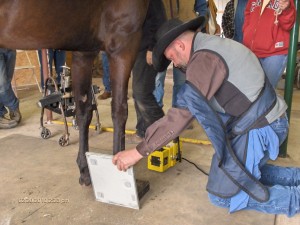 Mike Pallone DVM, took radiographs and these were used to illustrate key points. Mike also spent time showing attendees what he was seeing as he looked at the radiographs.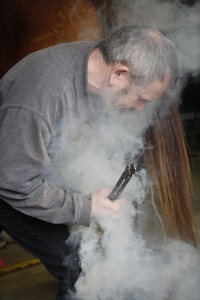 Charley Mattingly, CF, traveled from Lawrence, Kansas to be with us. Charley has over 30 years experience and is especially well known for his success shoeing Arabians and Saddlebreds. He combined some of his general philosophy about shoeing with a step-by-step discussion of what he was doing as he used pads and a toe weight package shoeing an Arabian Country Pleasure Horse.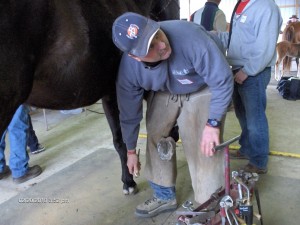 Dave Klimek came from Purcell, Oklahoma. Dave shoes halter and performance horses for some of the top Quarter Horse and Paint trainers in the country. He has shod many world champions and is renowned for his work shoeing halter horses. Dave gave a demonstration of the direct glue method, in which the shoe is glued directly to the bottom of the hoof. He also demonstrated building a spring shoe for use on a club foot and discussed this condition in some detail.
Mike Balding CJF, Malvern, AR, who apprenticed with the well known farrier, Jim Linzy, has 30 successful years in the business. He's also a great forge man and ornamental blacksmith. Mike did a terrific demonstration on jump welding bars into a keg shoe to make bar shoes.
Vernon Dutcher CJF, We've been fortunate to have Vernon put on three clinics this year for us. Vernon is a former tester for the American Farrier's Association and has over 30 years experience. He's an extremely accomplished blacksmith farrrier and competitor. All of Vernon's clinics are hands-on.
Vernon has put on two tool-making clinics. We built pritchels, fore punchers, hoof knives and wood handled creasers (which required making our own tools to punch the eye hole for the wood handle). In these clinics Vernon taught 2-man forging, in which the primary smith makes use of a striker with an 8 lb hammer. The striker stands across the anvil from the smith and the smith directs his blows.
Vernon did one certification clinic for us and will be doing more in the future. He works one-on-one to help farriers who are getting ready for various levels of certification with the American Farrier's Association.
Established farriers can contact us for notification of upcoming certifications clinics at the School.